For our customers it all comes down to speed, quality and versatility - all provided with the Heidelberg XL 106 press.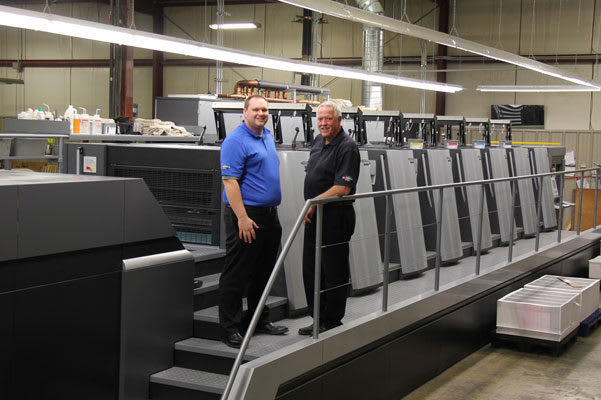 In 2016, Battlefield installed a Heidelberg XL 106 press that president Jerry Theoret carefully customized over a number of trips to Germany and more than one beer. We could talk all day about the features of the press: push-to-stop automation that lets us change jobs with the push of a button, the fully automatic staggered and simultaneous plate changes, digitally controlled ink zone motors, the UV drying technology and more. But then, we're press geeks. For our customers it all comes down to speed, quality and versatility. Here's how.
FASTEST IN THE WEST
Our pimped out XL 106 prints 18,000 sheets per hour. That's 18,000 7-color sheets with UV. The sheets are dry when they come off the press, so they can be sent straight to finishing and binding, then out the door to you (or your customer). We can be makeready in 5 minutes, which means your job is on the press 5 minutes after the job we just finished. We never have to stop the press to makeready or monitor the production run. It's full speed ahead at all times.
HEY GOOD LOOKIN'
This press produces the crispest of images and text, and colors so vibrant (especially paired with specialty coatings) we find ourselves rubbing our eyes sometimes. The high performance control station automatically measures and adjusts color and registers on the fly—even at 18,000 pages an hour. Sensors dynamically adjust sheet spacing for contact-free sheet travel and patented protective "jackets" on the transfer and impression cylinders also maintain quality. Coatings are delivered without pulsing, for best results. The drying systems are perfectly matched to the sheet travel for the best quality outcomes. The dynamic sheet brake means your finished sheet comes off the press (and onto an exceedingly neat pile with aligned edges) smoothly and gently.
YOU NEED IT, WE CAN PRINT IT
The XL 106 can print 41.5″ on pretty much any substrate, including 40 pt vinyl. It's set up for almost any kind of package and label printing you can imagine. Web-to-print? Check. Consumer goods? Check. Short-run specialty jobs? Check. Print-on-demand? Check. The XL 106 can print a wide variety of specialty coatings, including textured coatings at three different densities.
Ever seen a unicorn? Come to our Burlington location and you'll be able to say you have.